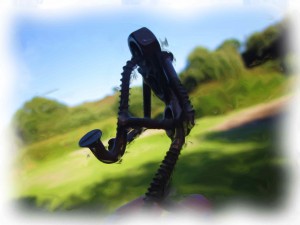 Probably not. It decreases the chances quite a bit.  Still possible to do it, but a lot more unlikely.
You don't need to learn them all at once, but eventually you want to know them. Spend part of your practice on scales, not all of it.
But if you can't play a scale, it's unlikely you'll be able to play songs in different keys.
A scale is like the simplest song you can play in some ways. Many songs tend to stay in one key. If it's a key you're familiar with, you can probably play the scale. If it's a key you're not familiar with and it's hard to play the scale in that key, it's also probably going to be hard to play the song in that key.  If you can't handle learning scales, you probably won't get very far.
A sax player who can only play comfortably in one key is not going to get very far. Music is written in different keys and within songs the chord changes vary.
Say if you learned by ear and didn't practice the scales, it's going to take much more time to learn songs if you are physically unable to play a scale comfortably. It's possible, but not an effective way to learn music and will waste a lot of time and slow you down.
Spending all of your practice time on scales would not be very much fun and probably wouldn't motivate you to continue playing for long.
Learn how the scales relate to the music and it will make more sense and motivate you to learn them.
For instance, if I know a melody in one key and then have to switch from tenor sax to alto sax, I'll have to switch keys. If I know the scales for both keys, I'll be able to much more quickly figure things out.
What do you think?
Leave a comment, thanks.