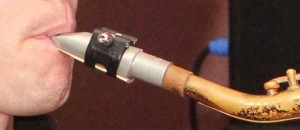 Does it make a difference on what reed you're using?
I have a 2 1/2. Should I be trying the lower and higher numbered reeds? Plastic?
What about mouth piece?
(playing for one month)
-Jamie
My response:
Yes. The reed plays an important role in how you sound and how it feels to play the saxophone.
I imagine that the 2 1/2 reed probably feels like a lot of resistance for you right now.
My recommendation would be to try a 2 or 1.5. Not below that, almost definitely not above 2.5. The lower number means the reed should be softer and will bend more easily, which requires less air.
The strengths of reeds by the number are not entirely consistent, but they are the thing we have to go by. You'll find that some reeds with the same number are harder and others are softer. There can be a bit of variation.
In general, a softer reed will make it easier to play the lower notes and to play in general. If it's too soft, the higher notes may be flat though.
A harder reed will make it more difficult to play the lower notes, but may get the higher notes more in tune.
For the first 3-4 months of playing the saxophone I would say you probably want to use a 1.5 reed and maybe get up to a a 2 after that if it feels like the reed is too soft.
Some experimentation is good after a while. In the beginning stages though, pretty much everyone should use a fairly soft reed.
For mouthpiece, you'll likely be fine with the mouthpiece you're using for a while. After a year or two you can try out some other mouthpieces. The mouthpiece will not make as much of a difference for a beginning player when you're just starting.
-Neal