If you're somewhat new to saxophone, you want to learn all your major scales first.  They will act as a foundation for you to relate many other scales in your mind.
Practicing them with a metronome, initially slowly, will help you master them.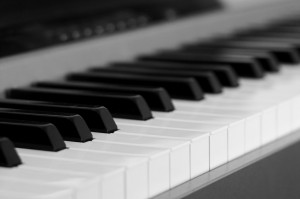 Once you know the major scales, you have the basis to play all the modes as well.
Sometimes a few scales can go with a chord.  All the modes work- ionion, dorian, phrygian, lydian, mixolydian, aeolian, and locrian work a little bit differently.  Some are more useful than others, for instance you almost never use locrian.
Ionian is the same as the 'major' scale and can be played over major chords, mixolydian scales can be played over dominant seventh chords, a few of them are minor.
There are seven modes for each major scale.  Each mode uses all the notes of that major scale, but they all start in different places.
The ionion mode starts on the root note of the major scale, the dorian mode starts on the second note, phyrigian starts on the third note etc.
Because they start in different places, they have different intervals between the notes and therefore have a unique sound.
Major 1 2 3 4 5 6 7 8
Dorian 1 2 b3 4 5 6 b7 8
Phrygian 1 b2 b3 4 5 b6 b7 8
Lydian mode – 1 2 3 #4 5 6 7 8
Mixolydian mode – 1 2 3 4 5 6 b7 8
Aeolian mode – 1 2 b3 4 5 b6 b7 8
Locrian mode – 1 b2 b3 4 b5 b6 b7 8
If you construct scales based off of these chords, they are as follows
For use with the triad, 7th, 9th, 11th, 13th chords-
Ionian:        Maj Maj7 Maj9 Maj11 Maj13
Dorian:        min min7 min9 min11 min13
Phrygian:     min min7 min7(b9) min11(b9) min11(b9b13)
Lydian:        Maj Maj7 Maj9 Maj7(#11) Maj13(#11)
Mixolydian:  Maj 7 9 11 13
Aeolian:       min min7 min9 min11 min11(b13)
Locrian)       dim min7(b5) min7(b5b9) min11(b5b9) min11(b5b9b13
Playing All the Notes in a Chord When You Solo on Saxophone?

| | |
| --- | --- |
| Share the Love? | Saxophone Video Lessons |
| | |