To play in the altissimo, you need to understand the physics of your instrument."
- Lenny Pickett pg 16 (Saxophone Masterclasses)
Altissimo refers to notes above high F# (the one above the staff).  Which is the highest note on most fingering charts.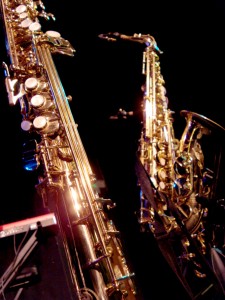 Altissimo requires special embouchure, listening, and control.
Players like Lenny Pickett throw in a lot of altissimo range and most professional (non-classical) sax players will hold out that screaming high note at least occasionally.
Lenny Pickett has also written about it in several articles in a couple of other books.
It's a matter of developing your throat and being able to 'hear' the note in your head that you want to play.
Working on playing harmonics will help.  ie, fingering a low Bb and without changing your fingering, use your throat to play the Bb above that and then a G and and then the Bb two octaves above, then D, etc.
However,
"It takes time to acquire, but you don't want to sacrifice the rest of your instrument for the sake of the altissimo."
-Lenny Pickett pg 17 (Saxophone Masterclasses)
So go ahead and develop it for part of your practice if you're ready, but don't focus too much on it if you're going to neglect other elements of your practice.
Sax Players, What the Woodshed WON'T Do....

| | |
| --- | --- |
| Share the Love? | Saxophone Video Lessons |
| | |