Hey, I'm Neal. Welcome to Sax Station.  Here's a bit about who I am and what Sax Station is about and how it can help you: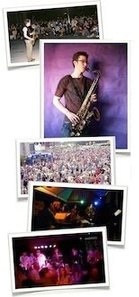 Are you new to the saxophone?
The beginning: At 11 I started playing saxophone.  Actually began on clarinet and soon picked up sax.  Started private lessons.
Middle School/High School: Played in concert band, jazz, band, marching band, and orchestra.  Was in an honors jazz band- played at The Taste of Chicago, Montreal Jazz Festival, and Monterey Jazz Festival with that group.
College: Studied physics.  Played in big band and jazz combos.  Joined a Hawaiian Reggae Band.  Played a few gigs while there.    Started SaxStation.com
Graduate School: Studied applied physics with an emphasis in acoustics.  Joined an R&B band, a blues band, and a salsa band.
Played some shows in LA with the R&B band, played San Jose, San Francisco, Redwood City, Santa Cruz, and Monterey with the salsa band.
Decided to focus on music.
If you have questions, feel free to ask.  My aim is to help you become a better musician and I enjoy the teaching process.  Learn a lot myself through it.  If you want to be a better saxophone player, enter your email address in the form.
Sign Up For Free Lessons
---
Comments about Sax Station:
Hi, I've been playing alto saxophone for around ten years now, and I just have to say that this site has been a major help.
At one point I felt like I ran out of things to practice; I didn't know how to get better but when I found this website I also discovered many new topics I didn't know about and it improved my sound and overall embouchure strength.
Chester
"Hi Neal the class went well
I am still chewing on some of the stuff since I always need more time
Working my through
Good stuff and I like the choice of songs
Thanks"
Rick
"Things are making more sense now.
I wasn't sure about your class at first but it has been invaluable to me because now I feel I have some direction to my practice with an end result in mind.
BTW, thanks for breaking it down step by step for me. That helped a lot."
Jerry
Great stuff Neal.  I started with my lip rolled over too much. The tone was fine but my lip hurt after a couple hours of practice. Now it is a real pleasure to play.  Just another day in the journey.
Thanks for the info and all the cool things on your web-site!
Take care!
Tim
"Just wanted to let you know, how much I appreciate your posts with lots of tips and info. I am fairly new to sax world, just started few months ago. Always wanted to play it, but now I have the time and resources and decided to jump in it with both feet. I am in my mid 50's.
Some times I get overwhelmed with all the information that is out there. I have tried couple of local teachers but haven't been too impressed with them. I like to have some kind of logical path that I can follow in mastering or at least be able to play it well. I am also trying to learn how to read music. Now I am at the place where I can read it and follow it fairly well."
Ash
"Your lessons and advice have been extremely helpful in helping me build my confidence and improve my solos. This weekend I actually got up on stage in front of a hundred people and jammed with musicians I just met that evening."
Ron
….sax Station there is no other like it and enjoy all the how to's on one the most hardest instruments to learn love my sax and will continue to be  a student."
Joaqin Valdez
"Neal,
Your approach to teaching is fantastic, you make complex pieces look quite simple than expected. Finding time to practice is tough but your methods seems to encourage me a lot. Great teacher!!"
Setho
Neal , Happy New Year to ya, I hope all is well on the ol ax!!! I just love the lesson on Cantaloupe that was great to listen to and read.
I really love this lesson Neal, gave me a lot to think about, because as I said I am a sheet music kind of guy and I am really wanting to get my ear more involved! You have been a great help and I appreciate you and your efforts!
Neal the vids are awesome and I love to listen to all the different personalities in these. Keep them coming and I look forward to meeting you in person some day!! Best regards,
Pete
Hi Neal
I really dig your web-site it's full of great information!
I have only been playing my sax for about a week.
I have started working on the Universal Method book, it's a great book. I have miles and miles to go!
Thanks for having your web-site to help people like me start their sax adventure!
Take care and have a great evening!
Tim Smith
"Neal , Happy New Year to ya, I hope all is well on the ol ax!!! I just love the lesson on Cantaloupe that was great to listen to and read. Thanks for all you do…."
Pete
"I play in my church's praise and worship band and want to improve my technique and breadth of my 23 years experience. I have come up with a number of licks I use but would like to add to that and give myself more variety because you're never too old or to good to improve even more and how much more for an audience that really consists of one."
Jeff
"….I am always looking to incorporate new skills and studies into my private teaching. #2 There is always something new to learn and new experiences to be gained from learning them. A new spice to your cooking opens a whole new dimension to what you are serving as well as a more diverse menu."
Bubba Ramey
"Im always working on improv this would be a priceless tool that i could really use"
Chris
"Hermano estoy interesado en aprender improvisacion porque considero que es una herramienta necesarea para jugar con el saxo bueno realmente estoy inyeresado en aprender . bendiciones para ti"
Henry Rondon
1. I believe that a person does not attain true mastery of any undertaking, but that person can continue to strive for mastery through self-improvement. Thus said, my undertaking has been to share the gift of music while encouraging those around me to also partake in it.
2.I've never had any formal training on how to improv but I've somehow managed to learn how to improv through self-study and trial and error. I believe that the Mastery by Sax Station class would be invaluable in not only helping me improve my improvisation skills but also help to correct some of the faults in my technique.
Dolu Obatusin
1) I think it will give me overall more confidence as a musician. I won't be afraid to volunteer for a solo in jazz band! I would just like to get in front of an audience and play a super awesome solo and not have to worry.
2) When it comes to improv I really don't know where to begin. I am somewhat new to it so I think it would be an important skill to have. I guess by getting to the nitty gritty of improvisation would start a good solid foundation. This is an area where I really want learn more, gain confidence and improve in.
Nicole
"I am a kind of person that likes learning new things everyday and applying it in my day to day improvisation, and by so doing it gives me choice of the right notes and confidence. so i need a lot of training on improvisation from the scratch. THANKS"
Sunday
"Nice I agree also, practice is not just have a routine or exercises to do it`s much more. We must have art to practice sax. Now is just my problem, what the best book and the exercises that make me improve."
Rui from Portugal
"….If I learned advanced techniques at my age, I could have them perfected, and be a advanced player for my age, and learn stuff that is not usually taught to kids my age.
#2 I would love to be a part of this class so I can be a better player. I love playing the sax, but playing in a regular band, tenor doesn't usually get melody. I feel like I'm not as "good" as the alto sax players because they've learned stuff earlier because they had melody."
William Seip
I do enjoy the links you send. One picks up valuable tips from almost every article. What amazes me about music,  is that I can read a music related book which I might have bought 5 years ago, and I pick up something new every time I re-read it…..because 5 years ago, I didn't understand what the author was saying!
Good luck with your endeavors.
Sincerely,
Chris
Hope all is well with you. Really enjoying the emails you are sending out. It's really helping me out a sax player.
Lynette, Oklahoma

Thanks a lot I really appreciate your help to make me better
Nicholas
Hey Neal, Some of my favorites are Sonny Rollins, Dexter Gordan, and John Coltrane man can those guys can play … I'm doing alot of work on listening to there articulation and the way they speak on the sax so ta say .. Time is always the judge and jury for learning something .. so I'm sure ill be tootin around here soon 😛 thanks for the interesting mails you've sent I'm learning alot and hearing alot of things i didnt know were out there ..
Shawn
I have to tell you this Getz/Coltrane combo video is AWESOME! Thank you for sharing.
Terry
Hello to all! Glad I stumbled upon this page! Keep the music alive!!
Bob Roden
Guillermo Alvarado I really like, this page, thank's for it, y love play my sax, and I want to learn more, give live and a soul to my instrument, Greets!!
Another reason to love the sax…. when ur stressed out, the sweet sounds that it makes just melts all the stress away…
Arie
Hey Neal. I dig your site/blog. Some fine topics there. It's always nice to inspire and set an example for the younger players out there.
Duston
Cool page. very helpful 🙂
Steven Lorenz
Shared your page. thank you.
Alene Greto
I think you are doing a great thing with this site, in my humble opinion. It's great to trade info with other sax maniacs.
Sax station is a great site! I've known of it for about a week only, but already I am less mindlessly playing and really paying attention to what I am doing with the horn. Thanks!
Ron Hutchison
hey all, im new to the page. I've been playin alto sax since 5th grade and i look forward to sharing techniques and stories
Joe Thrower II