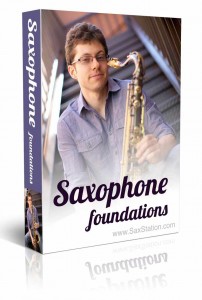 Want to play saxophone, but feeling lost and not sure how to get started?
Glaciers aren't exactly known for moving like Lance Armstrong, Usain Bolt, or a Ferrari.
However, slowing down and moving like a glacier can have a huge impact on your abilities to play the saxophone.
In upstate New York, at the Meadowmount School of music, the location was chosen because it is inexpensive, quiet, and remote. Initially there was no running water or electricity for the few cabins built there. To this day, it remains very simple in terms of accommodations.
You may recognize a few musicians who have attended the school though, they include Joshua Bell and Yo-Yo Ma.
The pace of learning is about 500% faster than many music schools.
And they learn more by breaking things down to the components and slowing down.
One teacher has a rule that if the song being practiced is fast enough to be recognized, it is being practiced too quickly!
In my new beginning saxophone class, you are also encouraged to practice music very slowly and the recordings are done quite slowly. Most of them at 66 bpm.
After a few students have gone through the class and some revisions have been made, Saxophone Foundations is now available.
if you're just starting to play saxophone, this will be very helpful. If you have already played for at least six months and feel comfortable playing simple tunes, then Saxophone Tribe http://saxophonetribe.com could be more appropriate for you.
Playing saxophone well takes a lot of time and practice, it's difficult to master.
And if you don't yet know how to read music, it's especially hard to find resources to help you learn how to play saxophone.
If you searched long enough on Google, you could probably find a lot of ideas to practice.  Some of them will be valuable.  Others will be worthless.  Even a solid saxophone method book can be confusing if you don't really know what things should sound like.
In this online/downloadable class you will see methodical lessons in a sequence and you can get feedback and ask questions at any point.
In short, you'll have help learning the instrument and struggle less.
You'll immediately get a password to download the lessons after you sign up.  You can print them out and burn a CD if you would like.
We'll start with some things you can do without holding a saxophone – listening and rhythm.
From there we'll get into the basics of saxophone – how to hold the saxophone, how to stand, how to clean it.  And how to play it!
As you work through the class, I'll actually take the time to follow up.
Saxophone Foundations will include:
•    Announcements on audio files of what is being played.
•    No in-depth jargon and frustrating skills unnecessary for new hands
•    Basics, clearly and informatively
•    A fun way to practice
•    The option to listen to the song and practice it along with a recording as well on your own
•    How to begin and how to stand
If you have little or no experience with music or musical instruments, you'll learn how to assemble, care for, and play your saxophone.  You'll get the absolute basics and start to read music.
You'll see diagrams and illustrations of the finger positions for playing each note.
You'll learn about counting beats.
You'll get music to work through as well as explanations of musical concepts and notation.
You'll get audio recordings (that you can burn to CD) which will help if you are unsure as to how the saxophone is intended to sound and you can compare the two.
There will also be video lessons when necessary to show you how to do things with your saxophone.
Upon completion of the class,You'll learn left & right hand keys, sharps & flats and be able to play music on saxophone across two octaves!
We'll focus on five dimensions  of playing saxophone
1.    Sound
2.    Rhythm
3.    Technique
4.    Notes
5.    Listening
We'll work on:
Getting a great sound
Reading music
Picking up music by ear
Developing confidence as a saxophone player
The class will probably take you three or four weeks.  You can take longer if you would like.  And I will be available for questions about the lessons, all you need to do is email me.
First of all, I have to say thank you for being a present and available teacher and not an invisible one . . . meaning, you just didn't sell us the membership with the lessons but you also made yourself available to your students to answer their questions and give personal feedback and you stay in touch. That is tops in my book and I so much appreciate that. So, Thank you.

 

I am dealing with some health issues so I am moving very slowly in the lessons, but I have looked over the whole lesson and exercise and I feel that you did an excellent job putting it altogether. It is well presented, easy to follow, and understand. Kudos to you! Excellent job! I am proud to be a student in your class.

-Alicia Ackah
Enter your name and email address here to get a sample of the class:
Leave a comment with any questions you have before signing up.
Important: Read this
Eligibility: You will have to agree to practice the material and tackle the challenges.If you do that, you'll learn a lot and be glad you signed up.
Saxophone Foundations


Regular

Premium


Lessons starting with the fundamentals, how to hold your saxophone, how to play your first notes, how to play music.
Recordings on alto saxophone and tenor saxophone to listen to and play along with.
BONUSES
Answers to your questions related to material in the workbook.
Help with one additional song of your choice
–
Personal critiques of your recordings of the material from the class ($60 value!).
–
Special Price:
$27
$33
Pay Safely With Paypal
Pay Now:
Note about payment: If you live outside the United States and do not yet have a Paypal account, first select, 'no Paypal account' then there's a scrolling menu for country where you should select your country.
After that, the languages may switch to your language.
This price will increase since I simply do not have time to give this much personal attention to too many people. Since you'll be one of the early students in Saxophone Foundations and will help build what is being created, you get a lower price right now.
Guarantee
30 Day Money Back Guarantee
If for whatever reason, the class isn't right for you, let me know and you'll be refunded the class fee. No worries whatsoever. Take for a test drive!
Who Should NOT Sign Up & Who SHOULD Sign Up?
The ideal student is someone who has some time to practice but can't necessarily make it to private saxophone lessons every week. They know that there is work involved and hurdles to be jumped.
Order Now
128 bit Secure Order Encryption
Get Your Saxophone Groove On
Neal Battaglia

P.S. If you are too late and we are currently closed then clicking the checkout button will lead you to a "waiting list" page instead of the payment page.
P.P.S. Imagine yourself in three weeks, sounding better because you're now part of the Saxophone Tribe.