Want a dark sound on sax?
Something like Joe Henderson might have played?
You might think it has a lot to do with the saxophone- the plating or whatnot.  But the mouthpiece is going to make more of a difference.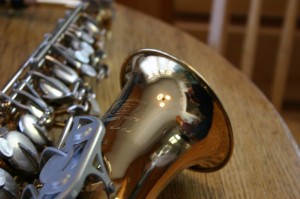 The reeds and ligature play a part too.
My understanding is that a more closed tip mouthpiece that is hard rubber will get you a darker sound.  Metal definitely produces the opposite- a brighter sound.
(A closed mouthpiece is a lower number. The number refers to the tip opening- so a lower number is less distance. A * with the number means it is slightly more open. So a 7* is a little bit more open than a 7.)
And for reeds, you want to experiment a little bit and see what gets you the sound you want.  They are cut different and grown from cane from different regions.
A rovner ligature also tends to make your sound darker.  I'm talking about the black ones that are rubber or leather.
Ligatures also sometimes have small plates that contact the reed and can be switched out.  Those can be metal, leather, and other materials.
A metal ligature or contact plate inside will brighten up the sound a bit.