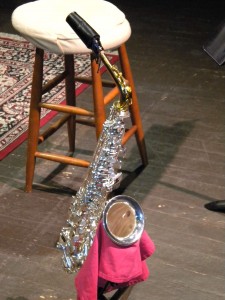 Question:
How can I get a good tone/sound from my alto saxophone?
(Playing for five years)
-Grace
Neal:
How would you describe your tone now and what would you like it to become?
Thanks
-Neal
Grace:
How would you get rid of the fuzziness of the sound of the saxophone?
And make the smooth sound?
My music instructor told me I tongue too hard on my alto sax…any tips?
Neal:
Tonguing is a fairly subtle movement. Sounds like you want to experiment with that and using a lighter movement.
Getting the sound more smooth also has a lot to do with the movements of your fingers.
Also, practicing more days a week will improve your sound if you practice deliberately and listen to yourself carefully.