Technology man!  This tool is the latest in 8 bit technology!
Combine this software with blue pants, red leather gloves, and some sunglasses……. and you're pretty much set.
Made possible by Pippen Barr with a tip of his hat to Sergei Stepanov and SunStroke Project.
Five monumental phases.  Practicing, recording, jamming, the Eurovision contest and 10 hours of youtube glory.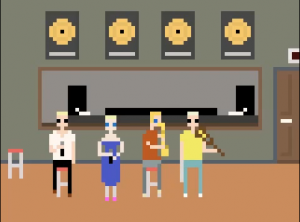 Try this out yourself and become an epic sax guy with 8 bits!
 http://www.pippinbarr.com/games/epicsaxgame/EpicSaxGame.html
(And notice today's date on the calendar)
To learn how to play this on alto – epic sax guy lesson.
I emailed a bit with Barr about the game. He lives in Denmark, and while he said he doesn't know if he'd call himself a Eurovision "fan," he's definitely more aware of it than he was when he lived in Canada or New Zealand.
Initially it was just going to be a straight up version of the loop and I was thinking about the style of something like the BIT.TRIP games, where the aesthetics improve/degrade as you perform.
But after a while I became really enamoured of this idea that you could follow the life of the Sax Guy, mostly because when I put in the Practice Mode and I needed a background I ended up drawing him playing at home, and it seemed so nice to recontextualise the music that I wanted to add more contexts.
As for the YouTube page, Barr says that that section certainly goes on for 10 hours, though he hasn't played it nearly that long. The comments are taken from the page itself. Might this be the first game ever to incorporate real-world YouTube comments?
Full size
Any way you slice it, Epic Sax Game is a great deal of fun, and a surprisingly potent bit of playable history. Barr says he's bummed that he missed seeing SunStroke Project live in 2010, which he missed by a year. "I wonder whether Epic Sax Guy would have been so striking seen pre-meme?" he writes. "Probably."
| | |
| --- | --- |
| Share the Love? | Saxophone Video Lessons |
| | |