I was doing something wrong….
It wasn't hard to fix it.
Wasn't my reed, mouthpiece, ligature, saxophone, embouchure, finger position, air support……
It was how I was standing.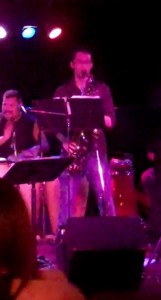 My feet were set apart wider than my shoulders, they weren't parallel and my body was shifted a bit to the side.   My right foot was a bit behind and my head was slightly leaning to the left.  Not sure if that's how I played consistently, but I was playing that way today and when it was suggested that I move slightly and change how I stood, the results were instant.
The way I stood before and was leaning, wasn't let the air supply get through as efficiently it seems.
The correction was to stand with my feet parallel and at shoulder length and also having my shoulders squared off in the direction I'm playing.
The saxophone should be slightly to the side and your strap/harness should allow it to just come up and let you play with little effort.
Try looking at yourself in the mirror!
If there is an issue with how you're standing and you fix it, you ought to sound better immediately.