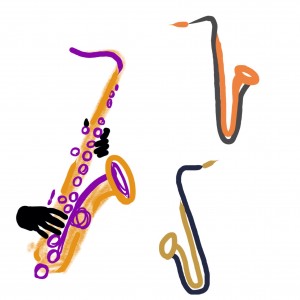 How to sound more smooth? I own a tenor saxophone and its the first time I ever play a saxophone.
(has been playing 3 days so far, plans on practicing 5/6 days a week)
Every time I blow into the mouth piece I get the sound of the sax but as I change the notes/chords, the sound kind of breaks off or dies down, if not, sometimes it screeches.
Even when I play low notes, every time I blow into it it sounds a little a high pitched. and if I blow normally I dont get any sound out of it.
I don't get any sound either when I blow slowly so that the volume of the saxophone drops a little. I have no problem with the chords or notes it's just sounding right is the major problem.
I changed my style of blowing and watched many videos to help me get it right but for some reason it doesn't sound smooth at all.
It goes smooth for the first note but then after that it goes up to a screechy sound or down to no sound at all.
I'm not sure if I'm doing it right to be honest but the way I sound so far, I must be doing something wrong.
On day 1:
No sound but after half an hour i made my first sound then was able to get it right as my reed wasn't moist enough and learned how to play pink panther in an hour.
Most importantly I want to know how to freestyle solo or improvise my own solo on my saxophone.
–Faisal
My response:
There are many elements as you try to sound more smooth on saxophone.
Practice
That's good that you plan on practicing 5/6 days a week. Six would be better than five and if you can practice everyday of the week sometimes, that would be even better.
Reed
It's possible you're using a reed that is too hard for you, having only played three days so far.
I would say a 2 or 1.5 would be about right for now.
Fingers
After three days of playing saxophone, the movements of your fingers are likely not perfectly synchronized. And any problems there will disrupt the flow of air and your sound. This will take work and awareness.
Certain transitions require a lot more precision than others. Think about the difference between moving one finger to change a note and lifting/pressing seven fingers at once. The second is a more complicated movement and everything needs to line up. If things don't line up, it makes the sound not smooth.
Expectations
You have been playing three days. Not three weeks or months or years.
You're also playing tenor, which requires a bit more air than alto.
First thing I would check is the number on your reed. After that, keep practicing. And realize that it will take quite a bit of work to attain a smooth sound. Part of it is your embouchure and more than you may think is your fingers.
Check out my saxophone classes/books if you're interested in learning more from me.
-Neal