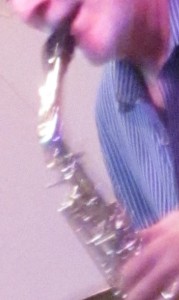 Received a question from Robert the other day about tuning an alto sax.
Seems like the confusion was because of the transposition from concert key to Eb.  The tuner displays notes in the key of C which is perfect for piano, flute, guitar, etc.  But not for saxophones.
Robert:
Hey Neal, I have a tuner here and it has EADGBE on it, which note will i need on the alto to tune it to one of them notes, i think i am out of tune on the sax. The alto sax….c/sharp sounds a bit flat.?/
Any help…thanks son
Neal:
So every note on alto sax is different from 'concert' pitch (guitar, piano, etc) by a minor third. The C on alto sax is a concert Eb. An A on alto sax is C concert.
You should be able to hear whether you're in tune or not.  And training your ear is a big part of playing in tune across the range of the saxophone.
The electronic tuner can be a good tool, but you also have to understand how transposition works for it to make sense.
Other ways of tuning include listening to a tuning fork or instrument you know is in tune, sometimes the piano or the first chair of an orchestra, something like that.
If you're playing flat (across the range of the saxophone) push your mouthpiece in a bit on the cork.  If you're playing sharp (across the range) then pull it out a bit.
I say 'across the range of the saxophone' since when you tune your saxophone, you're only tuning one note.  Having one note in tune is better than having zero notes in tune though and the saxophone is built to be relatively in tune across the range if you do play in tune on at least that one note.
You'll learn the nuances of your saxophone and be able to control the pitch better as you practice and progress.
The tuning process, using tools, can be helpful in getting to the point where you can play in tune almost automatically and hear changes you need to make with your ear.