Question:
If you have a tuner and you are playing f but it said you are playing a g#, do get a different tuner to play o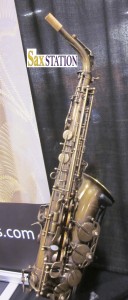 n the sax ?
(plays alto saxophone)
-Flo
My response:
The alto saxophone is a minor third away from the note displayed on the tuner.
If you play 'C' on alto sax, it will display 'D#' or 'Eb' etc on the tuner.
G on the tuner would be an 'E' fingering on alto saxophone.
And the example you said, playing an F on the alto sax and seeing a G# on the tuner is correct. The note on the alto sax is a minor third below the note displayed on the tuner.
The reason this happens has to do with the shape and size of saxophones and what shapes and sizes tend to produce good sounding tones.
So you don't need a different tuner, I don't think they even make tuners specifically for saxophone, although it wouldn't surprise me all that much if someone wrote an app to do that. Just realize that the note you play vs what you see on the tuner will be different. And knowing which note will show up on the tuner is a good thing to have in mind.