The other night I decided I wanted to know 'Goodbye Porkpie Hat'.  The song written by Charles Mingus as a tribute to Lester Young based off of the jam session after he passed away.
It's a ballad that I have played before and somewhat knew.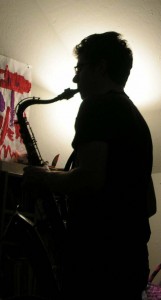 So I thought I would concentrate on this one song and learn it.
The whole strategy of working on less material- making you really master it seems like a great idea in theory, but historically I definitely haven't always done it.
After a little while I learned all the notes, the melody isn't terribly complicated.
Spent a little time getting the crescendos right and trying to play the inflections.
Probably should listen to a few players on the tune to get some ideas.
Then I went on to the chord changes.  The chord changes are not standard by any means.  The melody has one set and the solo section has a completely different set.
Charles Mingus says, "I went home and wrote a blues the way I thought they were playing, with different types of chord changes0note just the regular blues- and it became part of the book."
That makes it an interesting song.  It has alterations, changes between multiple chords within a measure and has a sequence of altered ii V progressions.
But it also made me realize that I should really master the harmonies of the standards first.  Getting down the blues changes, minor blues, Rhythm changes, etc in all keys will be useful for many more songs.
Just like you learn the common words in a language as a young child, rather than the complex medical terms that will only be useful in a very certain situation.
It's a cool tune, but for now I think knowing the melody is enough!