Minor scales give a certain feel that you want sometimes.  There are three (main) flavors to choose from: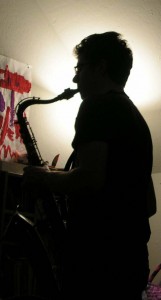 Dorian and melodic minor are the important ones, you can use them on minor 7th and minor 6th chords.  Harmonic minor over minor ii-v has a cool sound.  The harmonic minor sounds kind of Middle Eastern if you play it straight.
Natural minor is not used very often, maybe over a diatonic sixth chord.
The Harmonic Minor Scale, relative to major is:
1 2 ♭3 4 5 ♭6 7 8
"W, H, W, W, H, W, W"
The Melodic Minor Scale is one way ascending and another way descending,
on the way up it has only a minor 3rd relative to the major scale:
1 2 ♭3 4 5 6 7 8
And descending,  the notes of the natural melodic minor scale are played:
8 ♭7 ♭6 5 4 ♭3 2 1
It is done that way for vocalists, so saxophone players really only need to worry about natural minors and harmonic minors.  It's good to understand what a melodic minor scale is though.  And you might sing too.
Natural minor (sometimes called 'pure minor', relative to the major scale is
1 2 ♭3 4 5 ♭6 ♭7 8