Want a Saxophone CD?  To listen to, give to someone, or learn from?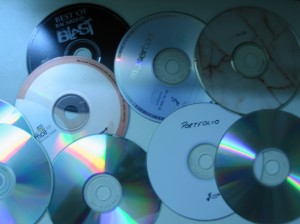 You probably want it to not be terrible.
On amazon,  'saxophone cd' had 2,552 results in the music section when I last checked.
The first one that comes up is Best of Jazz Saxophone by Various Artists!!
Sounds awesome right?  I love the Various Artists Band, they always rocks the live shows.
Or maybe you want a real saxophone cd, by a saxophonist?
Something like Just in Case You Forgot How Bad He Really Was
, he being Sonny Stitt.

Heard this particular saxophone CD being played on a shuttle going to the airport and then ordered it later.  Driver happened to know his jazz.
So  wasn't an automatic search that found it.
Amazon can be pretty helpful though, you'll see reviews once you get to an actual CD.  But finding that saxophone cd in the first place isn't laid out so simply, you need to know a little about what you want beforehand.  Which sax players are good, which albums you might like, etc.
In my case, since I play saxophone, relatives have several-ish times given me saxophone cds as gifts.  Sometimes they're cool.  Other times it's a CD with a saxophone on it and doesn't have many other redeeming qualities.  Your relatives have good intentions! (probably) But they don't always know what they're doing when selecting a saxophone cd.
If you're reading this post, you probably play saxophone, but if you don't, check out the list of players on Greatest Saxophone Player of All Time? and the comments.  And listen to the players before you get something!  Youtube, samples on iTunes, there are options.
'Best of' sometimes are good… but not necessarily.  Don't take that phrase at face value.
There are a ton of great saxophone CDs out there.  Lots of styles and different flavor.
Some of the my favorite jazz recordings with saxophone include these ones, click on the images to check them out.  Other CDs with these musicians tend to be good too!
Saxophone Colossus

5 Stars – Excellent …Rollins displays humor, gentleness, a delicate feeling for beauty….I find this entire album excellent on all counts and for all persons concerned. -Down Beat
Miles Davis with John Coltrane, Paul Chambers, Cannonball Adderly, Jimmy Cobb, Wynton Kelly. Even people who don't generally like jazz like this album. It just has great music.
1. So What
2. Freddie Freeloader
3. Blue In Green
4. All Blues
5. Flamenco Sketches
6. Flamenco Sketches (Alternate Take)
Time Out with the song 'Take Five' by Paul Desmond.  Dave Bruebeck on piano.
Song for My Father – Horace Silver with Joe Henderson on tenor saxophone.  Joe Henderson's solo follows Horace Silver's piano solo and is amazing.
Stanley Turrentine's 'Sugar'.  My favorite saxophone player.  He's got soul.  I've got a ton of his recordings.
John Coltrane's A Love Supreme.  Masterpiece.  Not exactly easy listening though.
Joe Henderson's 'Page One'.  Another one of my favorite sax players.  His debut as a band leader. I really like his recording of Blue Bossa1. Blue Bossa
2. La Mesha
3. Homestretch
4. Recorda Me
5. Jinrikisha
6. Out Of The Night
What's your favorite saxophone CD?  Leave a comment!