Sometimes when you go between some notes on saxophone, it's not clean- you hear a note in between that don't mean to play!  It's called 'schmutz' (dirtiness) by some people.  I first heard that term from George Young who played in NY for a while.
The problem can be a sticky pad.  You should only be drinking water when you play and it's good to brush your teeth before hand.  That can prevent the problem.
To fix the sticky pad, you can use a clean dollar bill since it has fiber in it.  You put it under the pad, press the pad down with a little pressure and then slide it out.  That's a quick fix anyway.  You may need to take it to a sax repair guy.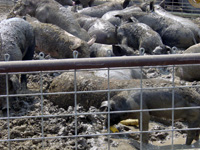 It's also just difficult to play between certain notes cleanly.  Between the D and B on the staff is one example.  The little key near your middle finger on your left hand tends to stick.
The schmutz can be your fault too.  Practicing going between these notes can help clean up your technique.