Just found a pretty cool online saxophone tuner.
(Click on that link or this image to use it)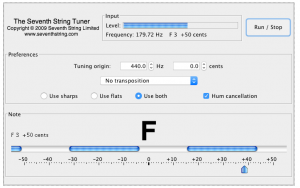 You need a microphone on your computer, the tuner itself is free.
When you go to that page, the browser will give you a security warning and say that the 'applet' is signed by Seventh String Limited and that it's verified.  You'll have to confirm you want to use the tool.  It's basically giving the site access to your computers microphone so that the tuner will work.
So click "Run" or "Ok" or "Trust" button make it work.
Your computer will need a microphone – either built in or external.
If you want a portable tuner, here's one. I have a korg tuner and haven't ever changed the batteries. It lasts for something like 85 hours!
The tuner will name the note being played (in concert pitch).
It will tell you how close or far you are from being in tune on the note you're playing.
The same company also makes a cool program that I use sometimes called Transcribe!
Transcribe for Windows
Transcribe for Mac