Talking about alto sax transposition the other day in response to Jerry's question.  Transposition on alto saxophone is a bit trickier than tenor saxophone, on tenor (and soprano) you can pretty much transpose on sight.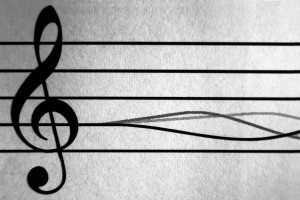 Tenor saxophone and soprano saxophone are both in the key of Bb.
Concert instruments – piano, flute, etc are in the key of C.
That means if you play a "C" on your tenor saxophone, it's the same as a Bb on piano.
The interval between C and Bb is a whole step.
So if you read music written in C (piano music for example) you go up a whole step to transpose it.  If you see a Bb, you play C, if you see a G you play A, etc.
Not too hard to get comfortable just playing music by thinking 'up a whole step'.
Any questions?