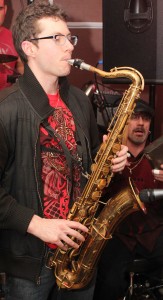 You can ask a question on this page:
https://saxstation.com/ask-a-saxophone-question
Question:
"Where to place your mouth (on the saxophone)?"
-Braden
(Has been playing alto sax for two weeks)
Written response + diagrams below video response,
My response:
About a third of the length of the mouthpiece.
More specifically, enough so that the space between the reed and mouthpiece is covered.
Here is a diagram of a mouthpiece with a reed on it. You'll see that there is some space between the thin end of the reed and the mouthpiece, widest at the tip and then it decreases in width up to a certain point.
Therefore your mouth should cover at least to that point, otherwise air can escape through the gap as you play.
The amount of space between the mouthpiece and the reed will vary depending on the tip opening of the mouthpiece. The reed should be flat on the bottom, so it won't change the geometry of the what's going on with this.
That means that you'll need to cover more mouthpiece with a wider tip opening and you can cover a little less with a more narrow tip opening.
That will be the minimum amount. You can try experimenting with a little more or less (beyond the minimum) to get what is comfortable and what seems to sound the best.