Question:
Hello Neal the question is why doesn't a new reed work for me when going to change to a new reed..,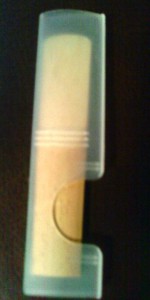 When I play I put to much force & it sounds very airy & I get light headed.
I'm a beginner, I have only played for 9 months. I play the Alto Sax & I play at Church& I really love it any tips & how I can get jazzy too??? I
By the way I love checking your website. I hope im being specific! Thanks for helping Neal.
-Josselin
My response:
Saxophone reeds, even the same brand with the same number, can be pretty inconsistent in how they play.
One reed might be a good bit harder to play, more like you would expect a higher number reed to be like.
It sounds like you're trying to play on reeds that are too hard for you.
If most of the reeds with that brand and number seem too hard, you will want to switch to a lower number reed.
But even then, some reeds will be softer, others will be harder.
To sound jazzy, you should listen to more jazz saxophonists and practice more. Learning how to play what they play by ear would be the best thing.