I had been talking to Randy Hunter, who teaches sax at Emory University, he has written books and lessons specifically for beginning sax players.  His lessons and books are available through Sax Station-
Beginning Sax Lessons
Randy:
The first aspect for consideration is whether you should learn on alto or tenor. I usually recommend that kids begin on alto because of size and weight considerations, but allow adults the flexibility to make the decision based on personal preference. Listen to a variety of alto and tenor jazz saxophonists, making note of your tonal preference. If you strongly prefer the sound of the tenor, go with it. If no clear preference emerges, or if you are concerned about the weight of the instrument, choose alto.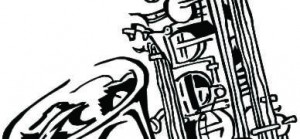 Your next question may be whether to rent or purchase a saxophone. My recommendation is that you rent from a band instrument store that offers maintenance included with the rental. This way, you are assured that your instrument is in working condition, and have the flexibility to change from alto to tenor, or vice versa, once you have a better idea of your preference.
Avoid purchasing a cheap off-brand instrument. Some of these instruments are low quality. You may also have a difficult time finding a repairman that will work on it a year or so down the road when it needs servicing. If you are not certain about the quality of a particular brand, contact a saxophone repairman.
I also recommend not purchasing a used instrument at first, unless you have an experienced sax player or repair shop that is willing to play-test it. You should know that your instrument is in good playing condition.
Jazz Saxophone Instructor
Author: "Beginning Saxophone: The Jazz Approach"
Author: "Complete Jazz Styles" etude, duet, and jazz combo books