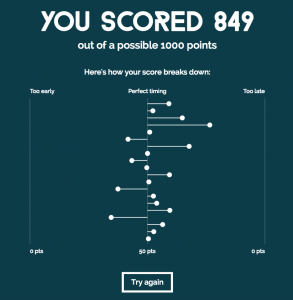 Charles McNeal mentioned a new rhythm game the other day, figured I would try it.
It's called "Got Rhythm" with the subtitle, can you keep the rhythm when the beat drops out?.
Click here to play "Got Rhythm"
So you hear downbeats and tap either a keyboard or a phone on the downbeats. Then the audio drops out and you need to keep tapping with no sound.
After a couple of tries, I got 849, I like how it breaks down how late/early it is. But at the same time I think it's a little goofy you click but don't hear a drum sound.
Also saw the scores of a few people who also tried it out,
890
840
921
864
804
0 (tapping randomly)
738
912
892 (had been using an app called drum genius quite a bit)
849 (me on computer)
906
900
484
820,  877 (after two attempts)
866
Some of the higher scores were probably drummers. A few not though. As a saxophone player, you want to also be able to keep great time. If you think about a sax player like Cannonball Adderley, he very much did that. Michael Brecker could keep a beat on the drumset.
This game only takes about 15 seconds to play and it's kind of fun to see how well you do compared to friends.
I personally prefer the Dance of Fire and Ice Game, I think it's more fun and it has off beats. I do like this one though since it's simple and shows whether you're early or late with some degree of precision.
Told someone about this game (beginning music student) didn't go so well on a phone. I thought it might have been because of the phone, but it's not. I got similar or higher scores on a phone.
That's cool it does work on many devices, considering that so many people use phones/tablets/etc. The Dance of Fire and Ice game is available for only androids and computers.
So try it out!
If you're interested in a class on rhythm, fill out this form