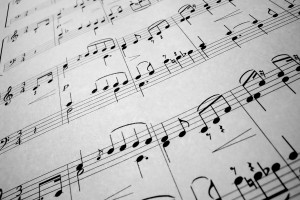 Some music that we read seems harder than other pieces…..
But why?
The culprit might be speed, an unfamiliar key signature, different rhythmic ideas than we are used to.
So, basically it may be that our fingers aren't ready or our mind isn't familiar.
Reading the music itself really isn't so complicated after you've been reading for a while.  You recognize the notes on the staff and most of the rhythms.
If you look at a melody or a saxophone part, you probably know how it goes.
Reading With Your Fingers?
I would bet that for many sax players, music becomes 'harder to read' when tricky (or unfamiliar) fingering combinations are in the music.
The extremely low notes and extremely high notes are somewhat unfamiliar (relative to the midrange) since we play them less.  Those notes also use keys that are not used by the midrange.
Other times a transition between two notes may be hard to execute cleanly.  That happens quite a bit when you need to lift or press more fingers – transitions like D to B.  If even one finger is slightly off, you'll hear some saxophone schmutz in there.
Dealing With the Unfamiliar
The key of C# is often thought to be harder than the key of C.
Why is that?
Probably because we play it less.
For me, C# actually seemed a bit easier than B or E early on because ALL the notes had sharps and that's how I thought of it.  And then after a little while your fingers get used to playing in a new key.
The key of F# is more comfortable for me than some other keys because I played it quite a bit with guitar players.  Hawaiian reggae band in college.  String players love the key of E and playing on tenor sax, that goes up to F#.
Our familiarity with music has a lot to do with the order we learn things in and our perception.  If you just spend a little time and work on 'hard' keys, you'll find they aren't so bad.  And once you are more comfortable throughout the range of the saxophone, you'll be a better saxophone player.
Slowing Down
Taking time to slowly work on problem areas will help your playing overall.  If you can't play something fast, start slow.  How much you slow it down is up to you.  Once you master something at a slower speed, it will be much easier to play it a bit faster then a bit more and eventually up to tempo.