Alternate fingerings on saxophone can help make patterns easier and faster.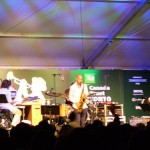 There are three main Bb fingerings- side Bb, bis key, 1&1- but the 1&1 fingering can often be done as 1&2 or 1&3.  It depends on your horn though.
There are alternates for G#/Ab too- you can hold down the left hand's pinky on the normal key for G#/Ab or use the pinky key for low C#, low B, low Bb- they all do the same thing.
For the note D- you can use the palm key to either make it open up, or as a faster fingering in some situations.
High E can be played similarly to the high F fingering that doesn't use the palm keys.  You also put the second finger of your right hand down.
If you immediately spot some I left out, leave a comment!