You'll probably need to apply saxophone cork grease  for new saxophones and/or new cork on your saxophone neck.  You put it onto the cork of the neck and rub it into the cork.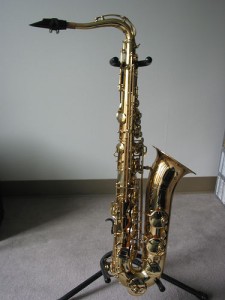 Different mouthpieces have different diameters as well, so if a new saxophone mouthpiece is tight, you may want to apply some cork grease.
If the cork is compressed, a wider mouthpiece may not stay fixed at the right point on the cork.
To fix that, you can apply heat to the cork, but be careful, you don't want to damage the cork!

Image from Fred Jala on Flickr.