Clarinets and open-holed flutes require very careful placement of your fingers. Sloppy positioning will allow leaks and will stop you from getting a good sound.  The pads on a saxophone pretty much close the holes as longer as they are pressed by some part of the finger.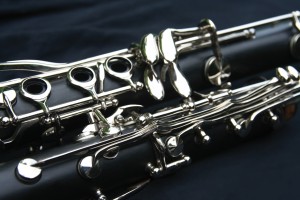 Your fingers should be somewhat curved somewhat like your fingers when playing piano.  The fleshy pad part of the finger should be on the pearl of the key.
If your fingers are flat, they will move more than is necessary.
Watch videos of saxophone professionals and see how they play.  There seems to be very little movement of the fingers.  Charlie Parker is a great example.