Here's the Ab major scale for saxophone.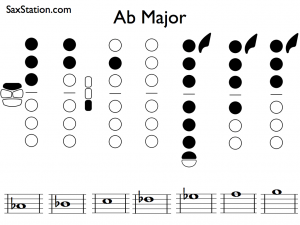 Ab sounds the same as G# and it's sometimes more convenient to think about it as G#, but generally you want to think about it as Ab.
There are four flats in the key of Ab.
All of the major scales are on Saxophone Tribe.
Here's a link to my class on scales for saxophone.
And here's a post about how the notes with letters compare with do re mi fa so la ti do,
"How to play do re mi fa sol la and ti on saxophone"