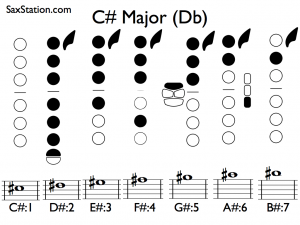 Here it is, the 'hardest' major scale for saxophone. Generally the keys with sharps are a little less familiar for saxophones than the keys with flats. And C# has a sharp on every note of the scale (all seven).  Really, it's just uncomfortable since we tend to play it less.
The C# major scale for saxophone.
You can think of it as the Db major scale, it sounds the same and that makes more sense in some situations that way.
All of the major scales are on Saxophone Tribe. They're also in the class on scales, https://saxstation.com/saxophone-scales-book-class
Let me know if this is helpful. Leave a comment.