Stormy weather, rainy weather, snowy weather, cold weather & your saxophone…..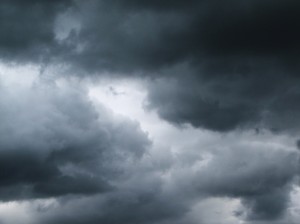 Recently I wrote a guest post on StormHorn.com about saxophone and storms, a combination that surprised me a bit at first.
But that's not what this post is about!
It's not always sunny in California, though at the very southern tip in San Diego it is most of the time.  Where I am at, it's begun to rain.
As conditions start to get colder, the air will move through your saxophone slower.  The air moving slower will lower the pitch of notes on the saxophone.
So the default position of your mouthpiece on the cork of the neck should be pushed a bit more in. Doing this decreases the length of the tube which increases the pitch overall on the saxophone.  It will make your life easier if the you don't have to fight as much to get proper intonation.  Of course a lot of the adjustments for intonation happen internally.
If it's cold enough, you won't be able to push in any further and you'll have to make do with being a little flat.  As you warm up, things will get a bit better.
If it's raining or snowing or worse, be extra careful about protecting your horn.
Your saxophone has a lot of small keys, pieces of cork, leather pads, and other parts.  Compared to a trombone, there are a lot more things that can go wrong mechanically.  See Saxophone Parts and Rocket Parts!
So you want to transport your sax with precaution and be wary of weather conditions if you're playing outside.
Do you have any stories about saxophone and the weather?  Leave a comment!