What is fork F?
-Tyler
The other day in class, Gary Meek told one of the tenor saxophone players that he might want to use 'fork F' for part of Michael Brecker's tune 'Straphanging'.
I was playing alto and the trumpet player, Tyler, sits next to me. He asked what fork F was. I realized that I didn't know what fork F was for at least the first couple years that I played saxophone!
In general, most saxophone players start with the middle range of the horn and then move on to the lower notes and the higher notes. It can be difficult to play certain notes at first.
If you haven't heard the song yet, check it out! Sometimes this alternate fingering for F (above the staff) ends up being useful. In Straphanging, the tenor gets into the altissimo range.
Here is the fingering for Fork F.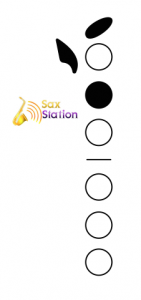 It is played like a C with the octave key with the addition of the button that is directly above where you would usually place your finger for a B.
The fork F on saxophone does not use the palm keys and uses less keys overall than the usual fingering, so sometimes that works better.
There is a similar fingering for fork E on saxophone.
Most saxophones have the front F key, but a few that are quite old may not.