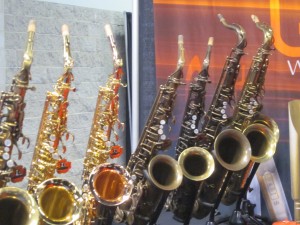 Question:
What's the big different between the tenor, alto, and soprano saxophone?
I never played before but always dream of playing. I'm leaning toward the tenor sax.
I love jazz and blues music and I enjoy gospel music and r&b as well.
What do you recommend. I'm looking to buy within the next two weeks?
-Tony
My Response:
Kids usually start on alto since it's easier to hold.
For you, as an adult, it's more a matter of which sound you prefer. The tone & range of the horn.
Soprano is a little harder to make the tone sound good, esp. at the start.
My favorite is tenor. But if you like alto or soprano better, go for that.
-Neal