The company that makes the app Skoove, that will help you learn how to play piano, reached out to me and offered to sponsor me trying out their app and sharing what I thought.
You can find them at Skoove.com or search on the app store on your phone/tablet.
One of the first things you can do is select the level at which you play the piano from three choices. I went with intermediate since I have some knowledge but would not call myself advanced. That turned out to be about right.
There are lessons on songs and more complete classes.
The first song I chose to try out was the James Bond Theme.
They have variations of lessons going with different songs. One is called "James Bond & The Sharp" for example. As you go through the lesson, they introduce ideas about music theory.
The lessons are broken down into steps.
So you will try something. The way the app senses what you're doing is by you having a piano or a keyboard that you play on and the phone/tablet will pick up what you're doing using its microphone.
I found that this system worked decently, but it didn't always pick up what I was playing accurately. Sometimes going to a higher octave would work better than a lower octave.
You can also use the service on their website and potentially play notes with a QWERTY keyboard which I tried briefly. If you don't have a piano or keyboard, that might be a way to learn some things, but it really doesn't feel like a piano, so I don't think it's ideal.
There are two other options to use bluetooth or a midi cable. I think those would be more accurate. But I have not tried them yet.
The first step could be just playing the notes and having the microphone check that you did in fact find where to play those notes.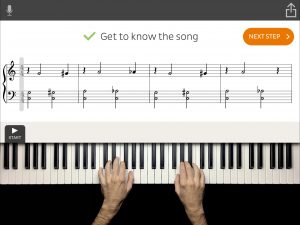 Then you can progress to the next step, which could be just to 'get to know' the song.
In that stage, you can see a colored bar go along in tempo with the music and you actually see a video of someone's hands playing the song. I liked that aspect, since with a book of music, you basically need to know where to put your fingers already. There are ways that work better than other ways. So having an example was helpful.
Following that, you try playing the different parts one hand at a time, starting with the right hand. It can be basically in time, or sort of stop and go. The microphone will pick up when you play each note and then move on to the next part once you have done so.
Then it will have a section where you play in time. It doesn't really check you at that point. But you should know whether you're with the timing or not by listening.
One thing that would probably be helpful that I didn't see yet was the ability to adjust the tempo. Maybe they'll add that at some point.
You work through the right then left hands, then both together. And you play along with other instrumentation at the end.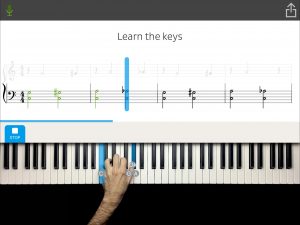 Overall, I think it's a pretty good app. It can help you get some basics of music theory and playing the piano. There was a decent selection of music. And you can learn different ideas using the same song. You can go more in depth into something, starting with a simpler version for example.
I would not necessarily forgo private lessons completely since the ear of a teacher as well as more detailed feedback on how you play are not available.
But in regards to some things you would learn in classes or in lessons, they are present in the app.
Sometimes you just need to learn where to put your fingers and how to play in time.
So I think the app could help you if you're learning piano or have played for a short while.
You can get a free trial period if you're interested. I have five coupons for three months full access on the app to give away from Skoove. Contact me at jammin@saxstation.com if you're interested.
You enter a credit card and will be billed after that trial period. If you do not see this in time, you should be able to get a free trial for a shorter amount of time.